by Dan McKiernan, on Jan 29, 2019 2:59:59 PM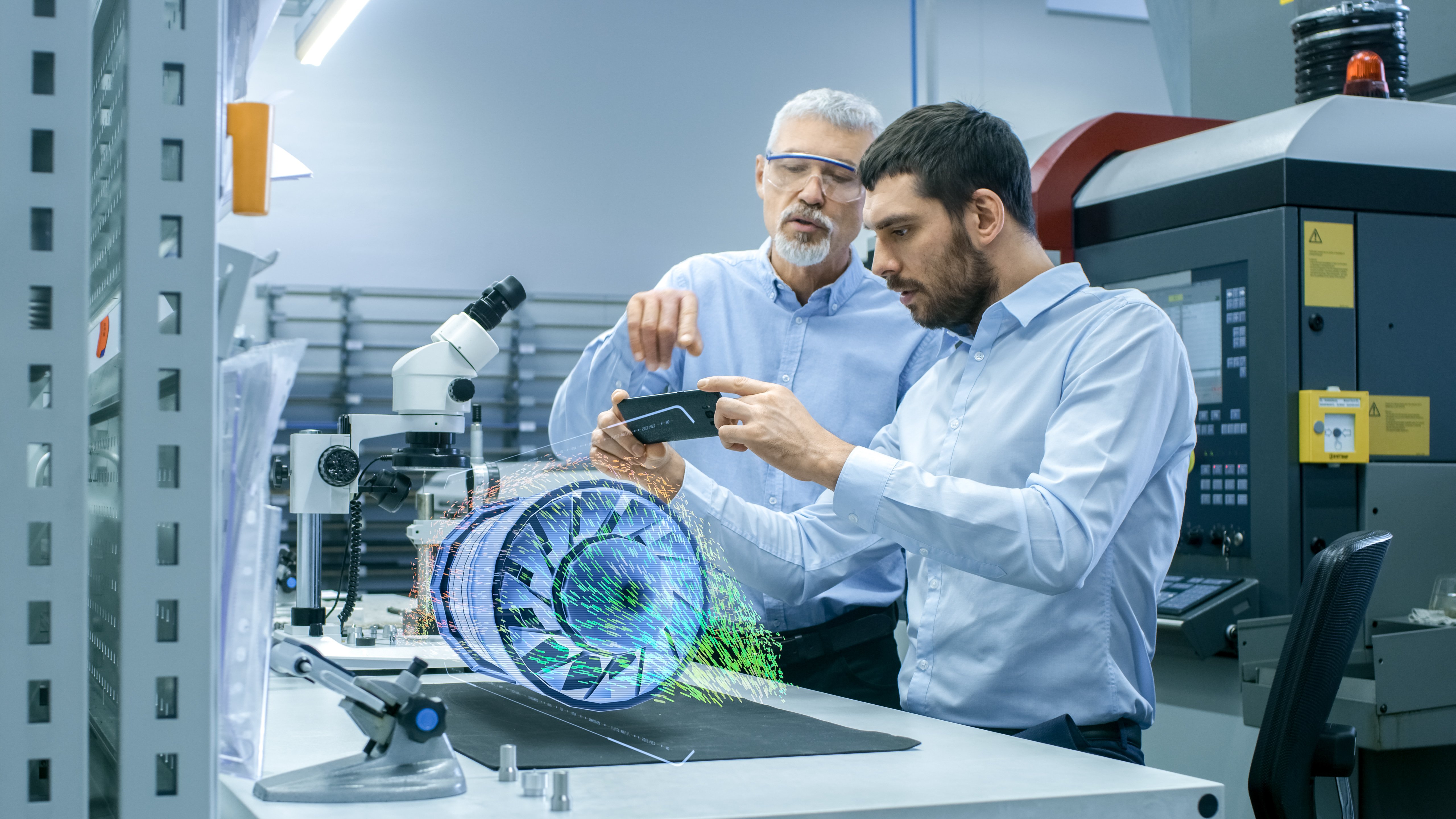 Throughout history, the phrase factory floor has evoked images of grit, grime and mechanized industry. The factory floor has long been a quintessentially industrial space, where skilled laborers assemble, craft and mold, bringing parts together and schematics to life.
In recent decades, the factory floor has become increasingly sophisticated. Cleaner, safer, equipped with powerful new technology and automation, the industrial heritage of factory work spaces has given way to a newly refined aesthetic and a correspondingly elevated focus on precision and efficiency. Important advances have been made in consistency and safety, with new tools allowing for increasingly precise and perfected parts and processes.
Today, however, we are moving into something very different—and very exciting: a series of coordinated advances that herald a profound and seismic shift in how factory floors function—and what manufacturers are capable of.
Connectivity & The New Factory Floor
The New Factory Floor offers previously unimaginable levels of quality, clarity, safety, speed, flexibility, mobility, efficiency—all with minimal downtime. It is technologically sophisticated: it's supercharged with automation, powerful AI and machine learning capabilities. It has the capacity to collect and leverage important insights delivered by big data.
But the thread that weaves that all together is connectivity.
The result is something not just evolutionary, but revolutionary: a giant leap forward that elevates a series of connected workstations or assembly bays into a seamless, coordinated and interconnected network.
Leveraging the Power of the IIoT
The foundational technology reshaping this radically altered professional landscape is sometimes generally described as the Industrial Internet of Things (IIoT). The underlying connectivity afforded by the IoT is essential, but it's the groundbreaking software and systems that industry leaders are introducing that is unleashing the extraordinary potential of the New Factory Floor.
The best of this cutting-edge generation of new tools and tech feature extraordinary new scalable and modular digital manufacturing solutions designed to leverage the power of the IIoT across a range of different production or assembly environments. Some holistic solutions offer next-generation digital work instruction platforms that are not only intuitive and user-friendly, they bridge the gap between sophistication and simplicity. Some offer drag-and-drop functionality that allows users to create, edit and assign work instructions within the application itself—all without any specialized programming expertise. As a result, process changes can be implemented in—quite literally—seconds.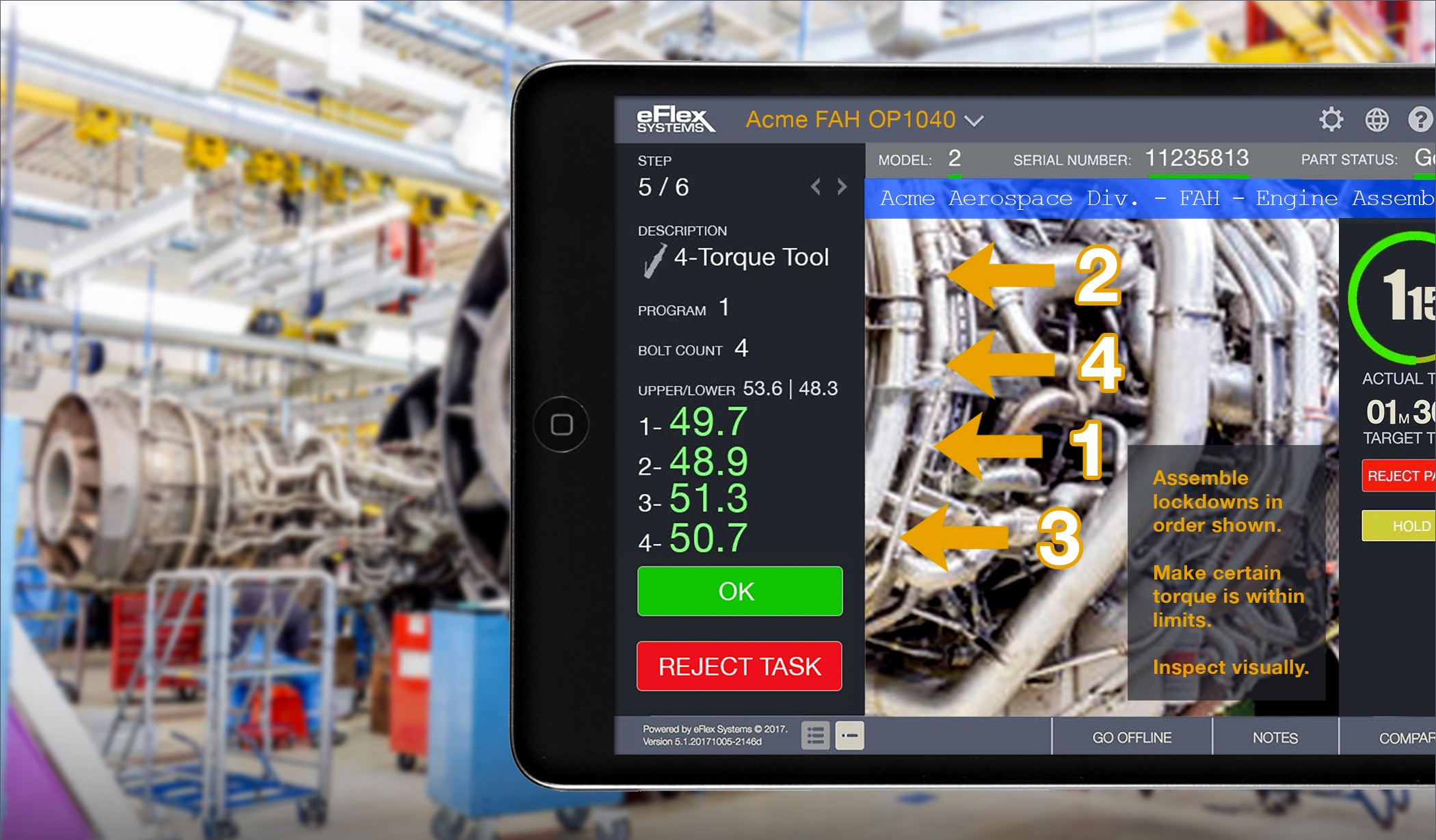 The best solutions aren't just easy to use, they are easy to implement. They are secure and incur minimal network burden, and deliver seamless integration covering ERP, MES, DMS systems, and from PLC-based systems all the way to state-of-the-art cloud-based solutions. Remarkably, some can be accessed through a customizable and user-configurable web page interface that can be accessed not just from any workstation–but from virtually any web-capable device in the world.
Tracking Quality and Compliance
Seamless connectivity and compatibility with a wide range of smart tools—fasteners and gauges, cameras, sensors, pick-to-light and augmented reality systems—allows for unmatched precision and monitoring capabilities. That facilitates tools like parts traceability, genealogy and quality management software to enable, enforce and track quality and compliance. Vision image management software easily manages and retrieves production images. Built-in kitting and parts management software and hardware delivers the right part to the right place at the right time—essentially error proofing the assembly process and dramatically enhancing quality control.
Plant managers can utilize real-time production reports and KPIs to monitor quality and production trends in real-time and make informed and instantaneous data-driven decisions. Customizable real-time dashboards and powerful reporting functionality allows leadership teams to quickly identify and resolve issues or bottlenecks— transparency and visibility combined with control. The result is the holy grail of manufacturers: real-time optimization of people, processes and systems across the entire production floor and throughout the enterprise.
Transforming Traditional Manufacturers
The New Factory Floor can transform traditional manufacturers into powerful and flexible digital enterprises, providing a decisive competitive advantage. These cutting-edge technologies are already being effectively deployed, developed and refined in some of the most sophisticated and demanding manufacturing environments in the world. Going forward, as a range of industries accelerate adoption, connectivity and capacity will need to remain priorities. A strong and secure connection is essential to maintain the seamless flow of data. Network connectivity is the current that drives the mill-wheel of efficiency. If that flow is slowed or interrupted, the New Factory Floor will fail to deliver on its promise. Manufacturers should also be considering scalability as they upgrade their systems. Ideally, you want to create the kind of facility and network infrastructure that is capable of accommodating the advances and the continuing cascades of innovations yet to come in this exciting and transformational space.