Opinion: The Intersection of Paperless Work Instruction and IIoT Cobots
by Randy Blaylock, on Jun 1, 2018 2:06:43 PM

Opinion article published Robotics & Automation News, May 2018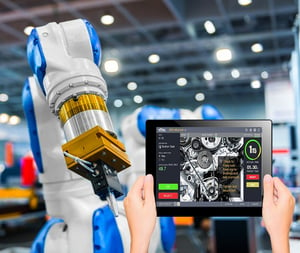 Interoperability has arrived and the ability of machines, devices, sensors, and people to connect and communicate with each other via the Industrial Internet of Things (IIoT) is no longer conceptual.
It is practiced every day on plant floors worldwide. Information systems can create a virtual copy of the physical world by enriching digital plant models with sensor data.
This requires the aggregation of raw sensor data to higher-value context information.
The concept for collaborative robots, or cobots, was born in 1995 as part of a research project spearheaded by the General Motors Foundation.
The idea was to make robots so safe that they could literally work hand-in-hand with people.
Now, almost a quarter-century later, cobots are partnering in human-machine teams.
Classic industry robots were powerhouses that worked following a fixed program, without regard for the people working around them. Accidents were prevented using fences and cages; no more.
Cobots are specifically designed to work together with people. Instead of being caged, they work in a cooperative environment and assist with complex tasks that cannot be fully automated.
Cobots hand components to human coworkers, who execute the more precise assembly or quality control tasks.
Cobots were designed to provide relief from risky activities, such as safely transporting sharp, pointed, or hot workpieces.
OSHA reports cobots have resulted in fewer accidents, leaving technicians to focus on less arduous aspects of production.
Because cobots are designed to work seamlessly together with their human colleagues, they immobilize at the slightest touch thanks to sophisticated sensors, to prevent any danger to nearby people.
Paperless work instructions for people and cobots
Flexible and teachable moments co-exist for cobots and production workers. Cobots are easy to program and some cobot models even learn independently.
A technician performing a movement with the robot arm, permits the cobot to automatically reproduce that movement.
Other systems can be given work instructions without coding, using a graphic user interface. Employees flexibly reprogram cobots and use them for a variety of tasks.
Paperless work instructions are a mandated standard across all manufacturing sectors.
Automotive, aerospace, clean rooms, biomedical, and other manufacturing facilities are now integrating cost-effective work instructions for both people and cobots.
Thanks to cloud-based solutions, the technology necessary to collect the required data, can affordably and automatically generate best practice lean manufacturing solutions.
eFlex Systems developed the only Job Element Monitoring (JEM) – Work Instruction Software, used by several Fortune 500 companies; now migrating to even the smallest manufacturing facilities.
JEM screen with ability to add customized process data
JEM, a web-based, paperless, manufacturing software solution provides work instructions for a station or individual tasks.
In real-time, as tasks are enabled and completed, the system automatically moves to the proper image and instruction while recording cycle times.
Real-time task status and time aligns as images and instructions change per task with an overall station cycle timer, congurable images, instructions, and sequences.
JEM can be applied to any manufacturing process whether a manual assembly line or a highly automated line with cobots.
Increased quality and decreased manufacturing costs
Quality control is best captured by quantifying increased quality and decreased manufacturing costs.
Effectively manage containment campaigns for warranty claims ensures that in-house resources are optimally utilized and immediate ROI with a turnkey solution is realized.
Even the smallest manufacturers, with a few cobots and labor roster in double digits, can fully synchronize operations.
People and cobots can operate with paperless standard operating procedures. Paperless JEM documentation validates safety procedures driving increased quality and decreased manufacturing costs.
JEM ensures the ability of systems to support humans by aggregating and visualizing information comprehensibly for making informed decisions and solving urgent problems on short notice.
Cyber-physical systems support humans by conducting a range of tasks that are unpleasant, too exhausting, or unsafe for human workers.
JEM enhances decentralized decisions for humans and cobots offering the ability of cyber-physical systems to make decisions on their own and to perform their tasks as autonomously as possible.
Only in the case of exceptions, interferences, or conflicting goals, are tasks delegated to a higher level.

About the author: Randy Blaylock is VP of sales for eFlex Systems. He has over 30 years of consultative selling experience and many years of experience in engineered manufacturing and material handling equipment.