The Variation Variable: Accommodating High-Variation Manufacturing Complexity
by George Jewell, on Feb 26, 2019 11:58:40 AM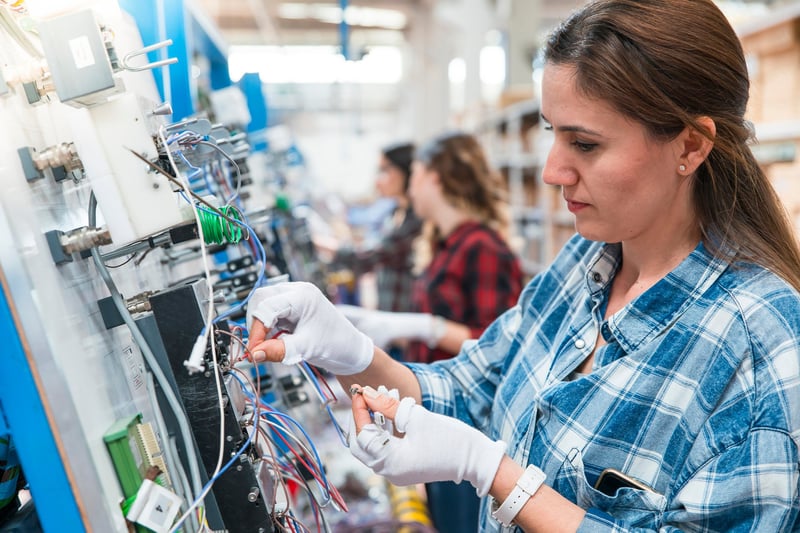 When working toward greater efficiency in any production process, one of the things that any responsible professional has to ask themselves is, "what can be controlled and what factors can throw a figurative wrench in the works." Understanding what those potential variables are is an important step in any work process.
But what about when the variable is variability itself. Because, in a world where evolving consumer and market demand calls for increasing variation and customization, many manufacturers are struggling to keep pace.
Accommodating High-Variation Manufacturing Complexity
Customer expectations are changing and becoming more demanding. From greater choice of colors and styles, to the more extreme examples of made-to-order and personalized production, customization is on the rise. Consequently, manufacturers are increasingly tasked with producing seemingly endless iterations of parts and products. But many manufacturers are simply not equipped to deliver the kind of customization that the market demands. A single valve with a handful of parts can have hundreds of various permutations, and changing processes to create those permutations can be costly, cumbersome and time-consuming.
A significant percentage of existing process control architecture is insufficiently flexible to efficiently and cost-effectively adjust to the kind of customization demands that the market is increasingly asking for. Fortunately, a new generation of manufacturing process controls technology—Manufacturing Integrated Platforms (MIPs)—promises to change that.
High-End MIP Solutions
While leading MIPs provide cutting-edge digital work instruction platforms that are dramatically easier to use and can be accessed from any mobile device, a large part of their appeal comes from the ability to provide perhaps the first truly holistic solution: an integrated platform that eliminates the need for elaborate and complex tech architecture currently in use in factories and production facilities around the world. A high-end MIP solution functionally replaces most of the layers in the traditional "automation stack", providing the automation and direct control supplied by HMIs and PLCs; the data collection, real-time analysis and supervisory functionality of SCADA software; and the monitoring and control capabilities of MES systems. The best have the ability to connect to the Bill of Materials (BOM), pull the BOM in and accommodating complex variation through a simple reconfiguration. With this functionality, manufacturers can finally achieve the longed-for capability of being able to modify BOMs in the office and see those changes reflected out on the plant floor. That means a new BOM part can be introduced without requiring any additional programming—saving engineers the time and expense of having to modify SCADA, MES, PLCs, and HMIs to accommodate that new part.
The key to this added functionality is system architecture that offers an appealing combination of simplicity and flexibility. Eliminating those layers in the automation stack dramatically reduces the need to painstakingly coordinate and integrate information between systems.
Streamlining Process Change
Replacing the aging technology of PLCs alone delivers a huge leap forward in efficiency. Not only can individual operators take advantage of drag-and-drop functionality that allows them to create, edit and assign work instructions within the application itself—all without any specialized programming expertise—but larger process changes can be implemented almost quite literally with the push of a button. Consequently, process changes that almost certainly took a great deal of time and energy to do previously can now happen in just moments.
The end result is a system that essentially does more with less. Not only does a MIP solution provide manufacturing professionals with enhanced plant floor control, visibility and transparency, but the streamlined and integrated nature of the platform makes it dramatically easier to configure, control and error proof assembly operations—even when there are large variations in model and component options.
Moving Through the Process Control Environment
Reducing layers of legacy systems and infrastructure to a single, streamlined MIP solution fundamentally changes the way information moves into and through the process control environment. It allows factories and production facilities to operate faster, more efficiently and to become dramatically more nimble. Those are essential prerequisites to achieving the kind of variation and customization that isn't just the wave of the future—but the marketplace realities of today. MIPs also take an important step toward even greater enterprise integration potential in the future, where design and engineering changes will automatically populate through to the point of production.
In the meantime, innovative and forward-thinking manufacturers can leverage this technology and these cutting-edge solutions to transform traditional manufacturing operations into powerful and flexible digital enterprises, providing a decisive competitive advantage in an increasingly customized world.