The Manufacturing Integrated Platform (MIP) Revolution
by George Jewell, on Feb 8, 2019 2:22:05 PM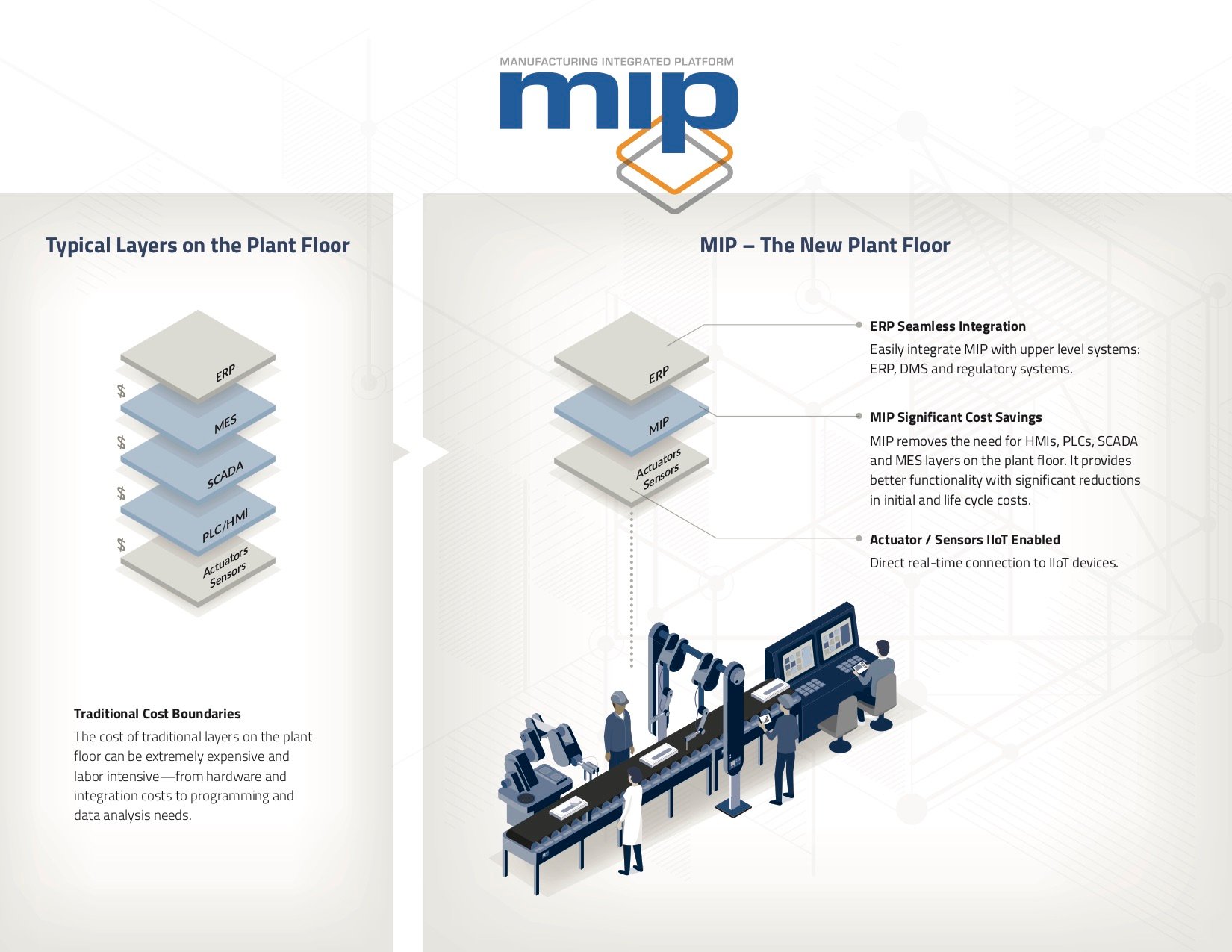 Change is coming to factory floors and manufacturing environments. An industry where technological advances have come incrementally and often reluctantly now finds itself on the cusp of a truly revolutionary leap forward.
Manufacturing Integrated Platform
The cause of this game-changing shift is the advent of the Manufacturing Integrated Platform (MIP). The best of this new generation of integrated platforms represent the pinnacle of what is sometimes referred to as Industry 4.0—a constellation of technologies including the IoT, machine learning, big data, cloud-based systems and more—and serve as truly holistic and comprehensive manufacturing solutions.
Plant Floor Control
MIP solutions deliver a new level of plant floor control, visibility and error-proofing, making it easier than ever before to configure and manage your manufacturing environment, standardize work instructions and process control, and monitor and enforce quality standards. The best examples make it possible to seamlessly connect and enable devices and ensure parameters are always met, collecting extraordinarily detailed and granular process data and cycle times. The bottom line is that a MIP ensures that products and processes are done right—each and every time.
Streamlining with Simplicity
It's not just about the power of these new tools, or the efficiency, utility and flexibility. It's all of those things, yes, but it's also about simplicity.
What makes the MIP revolution so thrilling is that, in stark contrast to the layers of legacy systems and infrastructure that have come before, a MIP doesn't add a new layer of complexity: it actually streamlines and simplifies. The MIP revolution is not iterative—it's transformative. You aren't simply adding new features or bells and whistles to existing platforms—you're fundamentally reimagining how plant floors operate. By changing the way information is delivered and utilized, MIP simultaneously provides more autonomy on the part of individual operators while also giving plant managers more control and transparency across the production environment.
In other words: the technical architecture of manufacturing environments—or really any process-dependent industry—hasn't just been augmented, it's been replaced. It's as if, after decades of building bigger engines and faster cars and finding new routes to get from Point A to Point B, someone invented the airplane.
It changes everything.
The implications of this breakthrough (really a series of breakthroughs packaged in a single comprehensive solution) are profound. Perhaps the best way to understand how big of a shift MIP represents is to recognize that a premier MIP solution replaces almost all of the layers of the traditional automation stack. A MIP provides the automation and direct control capabilities of HMIs and PLCs, the data collection, real-time analysis and supervisory functionality of SCADA software, and the monitoring and control functions of MES systems. Because it takes an enormous amount of engineering and expense to coordinate and convey information from each level to the other, the fact that a single all-in-one MIP solution can replace all those layers and control the whole floor directly to the ERP represents a radical and transformative innovation.
Speed and Performance
Replacing the aging technology of PLCs alone delivers a huge leap forward in efficiency. And because the best MIPs are web-based solutions, changing a single webpage instead of updating each individual HMI means that previously time-consuming and tedious process changes can be implemented in—quite literally—seconds. Some MIPs feature cutting-edge digital work instruction platforms that with a user-friendly interface that allows operators to access the system through any connected mobile device and create, edit and assign work instructions within the application itself. As a result, time-consuming and complex process changes can be performed in a matter of moments. With the right MIP, you also have the built-in opportunity to add a whole host of new integrated tools and features, from torque guns to image capture functionality.
Versatility and visibility. Streamlined simplicity. Unparalleled utility. Precise process control and information-gathering—conveyed through customizable real-time dashboards and powerful integrated reporting functionality. All of it easier, more efficient, and less complicated than any other systems in use today. In an industry where more functionality has often meant more complexity, the MIP revolution offers a dramatic and transformative paradigm shift and a new way forward for manufacturers everywhere.
Interested in learning more about Industry 4.0 Solutions for the modern factory floor? Discover our Flexible and Lean Manufacturing Solutions.