eFlex Systems Announces Strategic Partnership with Atlas Copco
by Tina Kennedy, on May 15, 2018 1:11:24 PM
ROCHESTER HILLS, Mich., May 14, 2018 --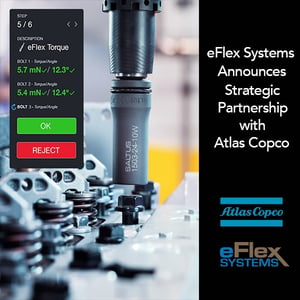 eFlex Systems announced today its strategic partnership with Atlas Copco, a leading provider of assembly solutions. Through this strategic partnership, eFlex Systems will integrate Atlas Copco's industrial fastening devices into Job Element Monitor (JEM) – the digital work instruction platform that will be used on a large medical device manufacturing project.
By digitizing assembly operations with device connectivity, engineers will be able to quickly set up, control, and view torque tooling configurations within the JEM system. The software will enable the controller in a configurable sequence, send parameters, disable the tool with a specific count, store torque and angle data, and track tool faults. The collaboration between the two systems provides a standardized, plug & play assembly solution while providing error proofing and quality assurance measures.
Dan McKiernan, President of eFlex Systems shared, "Through our strategic partnership with Atlas Copco, eFlex is able to seamlessly connect tooling into our digital platform, ensuring build processes are done correctly every time and quality standards are met. This is critical for any industry, but especially important when working on a project in the medical device and healthcare industry, considering the regulatory environment. This strategic partnership marks an ongoing commitment to grow the digital manufacturing platform and further serve growing customer needs."
Rob Hostler, Atlas Copco Business Line Manager added, "We are very excited to combine our advanced assembly technologies with an innovator like eFlex Systems to ensure that productive, safety, and quality are paramount to our joint customers."
About eFlex Systems
eFlex Systems (www.eflexsystems.com) is a recognized industry leader in the design and implementation of advanced technology and world-class digital solutions for the manufacturing and information technology markets. Serving a global customer base, the company's reputation as a world class manufacturing software company and manufacturing consulting firm attracts new customers while preserving relationships with existing clients. Follow on Twitter @eFlexSystems.
About Atlas Copco
Atlas Copco (www.atlascopco.com) is a world-leading provider of sustainable productivity solutions. Serving customers with innovative compressors, vacuum solutions and air treatment systems, power tools, and assembly systems. Atlas Copco develops products and services focused on productivity, energy efficiency, safety, and ergonomics. Founded in 1873 and based in Stockholm, Sweden, the company has a global reach spanning more than 180 countries.
Media Contact:
Tina Kennedy, Marketing Manager
tinakennedy@eFlexSystems.com