Visit eFlex Systems at the Automate Show 2017, Booth #2419
by Tina Kennedy, on Mar 25, 2017 10:00:14 AM
Visit eFlex Systems at the Automate Show April 3-6, 2017 at the McCormick Place, Chicago, IL. Check out our MES Solutions for manufacturing including eFlex Vision Image Management Software. Live demos available for hands on experience of our software capabilities.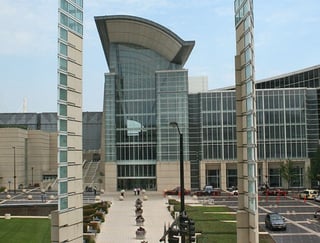 Benefits of eFlex Vision:
Advance Quality Management Efforts: Reduce first-time quality hits by reducing false rejects and bad part approval due to camera issues. Archive all images produced by inspection cameras to quickly retrieve in the event of a quality spill. Easily search the storage database to quickly contain quality spills by easily finding the "start" and "end" of the spill.
Improve Warranty Claim Management Capabilities: Images can be used for warranty claim reviews and improved root cause analysis. Images of other parts manufactured at the same stations, times and/or lots can be reviewed to determine larger production problems. Comply with #FDA21 CFR Part 11 audit trails to help protect against warranty claims.
Eliminate High-Cost Resources: Managing and storing production images manually is time consuming and expensive. Our web-based solution simplifies the process, reduces or eliminates manual labor, reduces the number of computers needed, and bridges the gap between IT and the plant floor.
Support Decision Making: Receive real-time, actionable information to enable process control, predictive maintenance, containment and more.
And much more...
Main Features of eFlex Vision:
Reliable Image Storage & Organization: Proven image management solution with a variety of searchable criteria for data retrieval and off-site cloud image storage services. Perform image storage, search and stabilizing/analyzing tasks with your existing in-house engineering and maintenance resources. Search through thousands of images with ease, with numerous search criteria to pinpoint images by date, time, camera, product, serial number, pass/fail and more. Manage file naming convention for every camera and send alarms based on: trending camera data, storage duration, image received verification and other features.
Visible & Accessible Anytime, Anywhere: Consolidate all images on cloud storage, with a secure web interface that allows users on any device to easily search, download and analyze images cost-effectively and in real-time (as product is being built). Query, view and export process images, review system event logs and manage storage parameters for each camera.
Notifications: Receive text and email system alerts for predictive maintenance. The system continually monitors key attributes such as reject rate due to degradation of lighting, parts marking quality, parts positioning and more.
Comprehensive Reports: Comprehensive and easy-to-use historical reporting, charting and data analysis that can be easily exported.
Screen shot of our Vision software.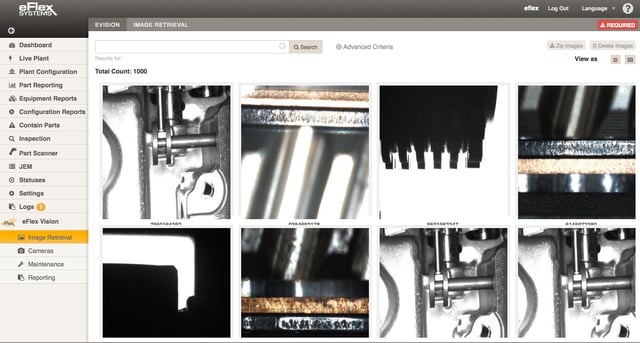 Why go the Automate Show? Watch the Video
According to the Automate website, "You really get to see a great cross section of the entire automation industry at Automate, along with the latest technologies that are making an impact on manufacturing today."
Held once every two years in the United States, Automate is the broadest automation solutions event in North America, affording the best overview of the entire industry. Featuring the latest in cutting-edge robotics, vision, motion control, and related technologies, the event attracts thousands of visitors from around the world looking for ways to enhance their processes, improve product quality, lower costs, and sharpen their competitive edge.
Visit the Automate website now to register.