Demo eFlex's SmartGlass for Google Glass at The Assembly Show 2014
by Dan McKiernan, on Sep 11, 2014 7:15:00 AM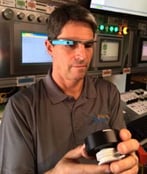 eFlex SmartGlass for Google Glass is THE latest lean leveraging technology that eFlex Systems is unveiling at The Assembly Show Oct. 28-30, 2014.
Sign-up now to arrange a personal "live" working demonstration at The Assembly Show, or anytime at your convenience.
You can visit booth #925 to wear Google Glass and walk through the booth's assembly line demo to see how stations and parts feed data straight into the glass in front of your eyes! Booth visitors will experience a glimpse of the extensive data that is available through eFlex SmartGlass through the simplicity of walking up to a station or picking up a part off the line, scanning it and getting a real-time feed.
The custom-built hardware and software suite in eFlex SmartGlass will empower manufacturing lines with real-time analytics and information across the entire production spectrum through Google Glass, as well as Android tablets, with the ability to:
Revolutionize manufacturing lines with increased production and process intelligence on every station and every part.
Provide real-time analytics across all manufacturing.
Free workers from lugging laptops and minimize high-cost industrial kiosks.
Exchange data between production lines, parts and eFlex software applications, including eFlex Vision, eFlex Assembly and eFlex Track & Trace.
Register to Attend The Assembly Show - AT NO COST!
Register before Sept. 30 to get FREE tickets to see the latest advances in lean leveraging technology for assembly (starting Oct. 1 the price changes to $15+).
https://www.regonline.com/register/checkin.aspx?MethodId=0&eventsessionId=7b4894bc819b496786556ffe3bdc025c&eventID=1369779
The ASSEMBLY Show has quickly become the "must attend" industry event for the assembly professional! Join eFlex Systems for another successful show where our main objective remains the same — helping suppliers, buyers and users of assembly equipment in manufacturing plants connect, learn, share and experience all things "assembly." If there is only one event that you are able to attend – this is it!
What Else Can You See In Our Booth at The Assembly Show?
Below is a brief summary of the lean leveraging technologies and software solutions from eFlex Systems that you can demo in our booth:
eFlex Assembly: A complete manufacturing planning, management and controls solution for assembly lines. Provides the flexibility to quickly react to market/product change. Improves quality and reduces waste through continuous monitoring, reporting, and optimization. Visit www.eFlexAssembly.com for more info.
eFlex Kitting: Supports the operator to deliver "the right part to the right place at the right time." Empowers the assembly operator
to work more efficiently reducing non value added work. Minimizes apron space on the plant floor. Visit www.eFlexKitting.com for more info.
eFlex Vision: A central image storage product that provides an integrated environment for managing and retrieving process images. Tthe storage answer for the tens of thousands of images generated daily by any assembly process that produces images (i.e. medical, financial, Rx, manufacturing, government.) Delivers application version control, preventive maintenance alerts and historical statistical reports. Visit www.eFlexVision.com for more info.
eFlex Track and Trace: Real-time part traceability for a robust quality management solution in an assembly and machining manufacturing environment. State-of-the-art server software, in conjunction with streamlined plant floor controller logic provided by eFlex Systems, to realize real-time part storage, status, marriage, separation and divorce, tracking, RFID recovery, quality gates, and reporting. Visit www.eFlexTrackAndTrace.com for more info.