Ventra to integrate eFlex Software in its Sandusky plant for complete traceability of its automotive lighting production
by Tina Kennedy, on Mar 27, 2017 10:29:43 AM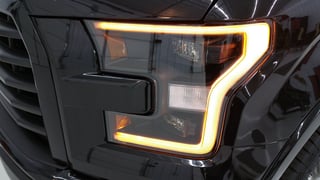 Photo Source: F-150 Forum
Ventra Sandusky LLC, a member of the auto-parts maker Flex-N-Gate, recently awarded eFlex Systems a project to provide traceability and vision storage software in its plant for the production of Ford F-150 headlamps and taillights.
With the addition of eFlex's track & trace solution, Ventra will be able to capture full product traceability and genealogy within its production process. The eFlex MES software suite allows users, in real-time, to capture part storage, status, marriage, tracking, RFID recovery, quality gates and reporting. According to George Jewell, VP at eFlex, "We are excited to partner with Ventra Sandusky in providing a web-based MES solution to meet their traceability needs. With our robust, sub-second response times, we feel Ventra will be able to maximize quality and production efficiencies."
A second software module, eFlex Vision, will also be implemented in the Ventra production facility. eFlex Vision provides an integrated environment for storing and retrieving process images from vision inspection systems.
Additionally, eFlex Vision provides the manufacturing plant with statistical and reporting tools to determine vision system integrity, provide real-time warnings and alarms, and stores all images in a central location. Through a web-interface, images can be easily searched by part serial number, date/time range, station, camera, pass/fail or any combination of these fields.
In a statement by George Jewell, eFlex VP, "The costs associated with faulty component parts, incorrect assembly operations and warranty claims can be extremely high for manufacturers. We feel confident that the addition of our Track & Trace and Vision Software in the Ventra Sandusky plant will ensure high quality standards are met while minimizing warranty costs."
Software Highlights
eFlex Track & Trace
Communications: Real-time, sub-second response time using a state-of-the-art software technical stack and preprogrammed plant floor PLC controller blocks. The solution will provide real-time responses to hundreds of connected stations.
Part Genealogy: Unlimited asynchronous part marriage, separation, divorce, remarriage and containment.
Graphical Track and Trace: With model path configuration, all build prerequisites are checked at each station.
Part Status Storage: Store part history and thousands of process data results for every part at any station.
Reporting: Numerous web-based reporting capabilities for queries and reporting on part status, station, date/time, containment, diagnostics/events, production history and more.
Server Monitors and Diagnostics: Server monitors system limits for warning and alarming, and diagnostics such as average response time issues, controllers not connected or responding, improperly formatted serial numbers, and more.
Business Intelligence Tool: Users can generate web based work spaces which can be used to analyze data through user specific charts, graphs, grids, etc.
eFlex Vision
Reliable Image Storage & Organization: Proven image management solution with a variety of searchable criteria for data retrieval and off-site cloud image storage services. Perform image storage, search and stabilizing/analyzing tasks with your existing in-house engineering and maintenance resources. Search through thousands of images with ease, with numerous search criteria to pinpoint images by date, time, camera, product, serial number, pass/fail and more. Manage file naming convention for every camera and send alarms based on: trending camera data, storage duration, image received verification and other features.
Visible & Accessible Anytime, Anywhere: Consolidate all images on cloud storage, with a secure web interface that allows users on any device to easily search, download and analyze images cost-effectively and in real-time (as product is being built). Query, view and export process images, review system event logs and manage storage parameters for each camera.
Notifications: Receive text and email system alerts for predictive maintenance. The system continually monitors key attributes such as reject rate due to degradation of lighting, parts marking quality, parts positioning and more.
Comprehensive Reports: Comprehensive and easy-to-use historical reporting, charting and data analysis that can be easily exported.
About eFlex Systems
eFlex Systems is a recognized industry leader in the design and implementation of advanced technology and world-class assembly optimization solutions for the manufacturing and information technology markets. We can help you achieve the right balance of technology and lean manufacturing principles to meet changing market demands. Serving a global customer base, we continue to expand our production assembly optimization expertise. We rely on our reputation as a world class manufacturing software company and manufacturing consulting firm to both attract new customers and preserve our relationship with existing clients. Our team includes a diverse group of developers, designers and engineers from manufacturing, software and consulting disciplines.