Track and Trace for Small Food Manufacturers
by Thomas R. Cutler, on Jun 27, 2018 5:29:23 PM

Article Published Food Quality & Safety, June 25, 2018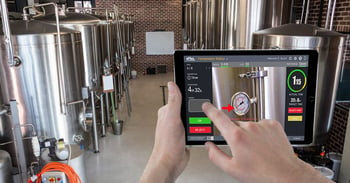 For decades, solutions vendors have used the generic phrase "track and trace," which suggests manufacturing traceability and quality control solutions that enable users to store, retrieve, and report status in food manufacturing environments. Ingredient traceability has obvious and numerous benefits for food manufacturers, including improved quality, reduced production costs, and increased plant floor visibility. Traceability ensures brand consistency while protecting consumers. There is no sector where this is more needed and regulated than the food industry.
From a single grain of pepper from China to a curry flavor from India, the percentage of food manufacturers with multi-cultural global ingredients has multiplied 400 percent in the past 10 years; nearly 31 percent of all finished food products have ingredients from more than four countries. Tracking, tracing, and accounting for these variables is a challenging process for both quality assurance and quality control for food managers globally.
Increasingly, companies are turning to Hazard Analysis and Critical Control Points (HACCP) and the ISO 22000 standard to control for the wide variability and food quality variances found between different nations. ISO 22000 is the international standard for food safety management systems and requires a rigorous ISO audit to confirm eligibility. ISO 22000 emphasizes communication, systems management, prerequisite programs, and the U.S. FDA's HACCP principles to ensure complete safety along the food chain. Manufacturing facilities must be structured to dynamically integrate quality and food safety management programs, assuring the ability to produce high-quality and safe products. Increasing demand for kosher and halal certification has driven this effort.
Expensive million-dollar food safety technology has been available to large food companies for quite some time. The "big boys" in the food industry did not flinch at spending the money due to internally housed information technology staff. Meanwhile small, 10,000 square foot food manufacturing operations with fewer than 10 employees succumbed to paper and Excel spreadsheets to meet the HACCP requirements; these companies suffered through audits without access to data and demonstrable evidence of regulatory compliance.
Thanks to cloud-based solutions, the technology necessary to collect required data can now affordably and automatically generate food safety plans. The eFlex Systems Job Element Monitoring (JEM) work instruction software is an example that takes track and trace requirements for the small food manufacturers into consideration. Providing work instructions for a station or individual tasks, it includes real-time 24/7 communication. In a HACCP environment, sub-second response times to hundreds of connected stations is non-negotiable. Changes to individual ingredients, materials, processes, or packaging can be automatically propagated throughout the system, ensuring that plans are kept current across product lines and plants.
With cloud-based solutions, even the smallest food companies can fully synchronize operations across facilities and across the globe—a single plant may be supported by other suppliers who can utilize data points. The emergence of a new hazard or a change to any aspect of an existing hazard is immediately understood. Automatic alerts can initiate recalls and modifications to existing formulas. Standard operating procedures are available to employees regardless of physical location.
Quality control is best captured by quantifying increased quality and decreased manufacturing costs. Effectively manage containment campaigns for warranty claims ensures that in-house resources are optimally utilized and immediate ROI with a turnkey traceability solution is realized.
Small margin differences impact small food manufacturing plants most.
---
Cutler, the president and CEO of TR Cutler, Inc., is the founder of the Manufacturing Media Consortium including more than 6,000 journalists, editors, and economists writing about trends in manufacturing, industry, material handling, and process improvement. Reach him at trcutler@trcutlerinc.com.