The 2013 Assembly Show a Huge Success!
by Dan McKiernan, on Nov 13, 2013 4:05:00 PM
We were excited to exhibit at the first Assembly Show this year because we want to support the industry and participate in the technology and cutting-edge conversations that happen at these types of shows. However, we were completely blown away by the success of this show. The attendees asked great questions and were very interested in our live demo station, we were interviewed by numerous organizations, our top-level executives conducted a live seminar and podcast, and we received a lot of attention and interest in our company and software solutions.
Podcast About Software
During the show, Dan McKiernan and George Jewell, the president and vice president, respectively, of eFlex Systems participated in a podcast. During this podcast, the hosts of Manufacturing Revival Radio spoke with McKiernan and Jewell to discuss how our software can help engineers improve quality, optimize their assembly lines, and respond to changes in demand. Listen to this 12-minute podcast. (Note: Scroll down the page to the 6th podcast entitled "Software Helps Engineers Optimize Assembly Lines.")
Show a Success
eFlex Systems was very pleased with the overall results of the show. "The assembly show has been fantastic. It was a total surprise. We knew it would be pretty good. It exceeded our expectations wildly," said Dan McKiernan, President of eFlex Systems. "The questions we got asked, the new contacts that we made were second-to-none. We've never had such a great experience and we look forward to next year."
View Dan's interview here: http://youtu.be/-CXrdVmuRbo
Our Booth & Demo Station
We custom-built a very cool live demo station that showcased our software technology in a real way. It was a lot of fun showing attendees what our software and hardware solutions can do.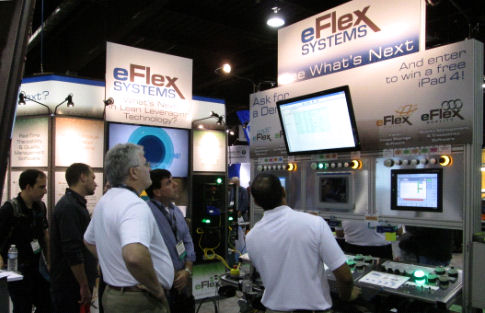 The seminar about eFlex Vision that we gave at the show was also recorded and can be found online here.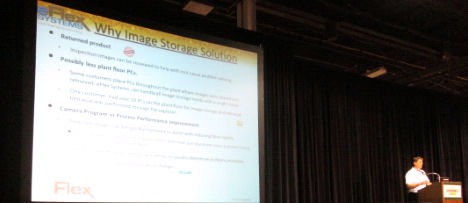 To access the recording:
Enter your email address (if you didn't attend the show, you can register for free access)
Once in Broadcasting Live platform click on the "Showcase Theater" and then select "Showcase Theater" again
Then click over until you reach our seminar: "Optimize Your Vision Inspection Systems" (You can then click "Watch on Demand" to watch the entire video with the PPT slides.)
Dan McKiernan was also quoted in this article.
The ASSEMBLY Show is a premier event connecting manufacturing suppliers, buyers and users of assembly equipment in a forum exclusive to assembly technology, equipment and products. Thank you to The Assembly Show, fellow exhibitors and attendees for making this a great success! We look forward to seeing you and our booth again in 2014!