Solving Quality and Process Challenges for Medical Manufacturing
by Tina Kennedy, on May 6, 2018 3:18:21 PM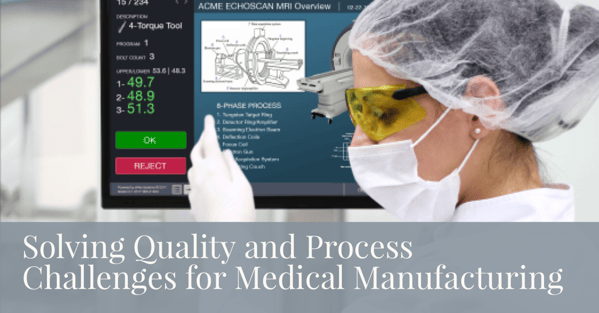 When making instruments or equipment that will be used on the human body there is no room for error. Consumers want to know that their pacemaker will keep their heart working properly. The computerized axial tomography (CAT) scan will provide accurate diagnostic data for their physician. The new orthopedic hip they received will fit properly and get them moving again. Medical devices are invasive – they cut, examine, and repair the human body. This is why medical manufacturers must strive for 100% quality standards – while meeting strict regulatory and compliance goals.
The challenges from engineering, IT, as well as legal perspectives are great. Medical devices can be very complex, highly engineered products with long manufacturing cycle times and multiple subassemblies in their build process. Think of a surgical robot, X-ray machine or CAT scan. Engineers are tasked with developing the processes and routing sequences to ensure that every product is built correctly the first time, every time – even when there are numerous engineering changes impacting work-in-process (WIP). How do medical manufacturers ensure quality and compliance standards are being met? By digitizing and standardizing operations with open visibility in all areas of the value chain.
STANDARDIZE PROCESSES WITH DIGITAL WORK INSTRUCTIONS
Digitizing operations with electronic work instructions, process routing and error proofing is mandatory, especially in complex medical manufacturing where there can be thousands of product variations and components, loops in processes and clean room assembly requirements. Digital work instructions offer much more capability than just paper savings. They enforce standardized processes in real-time, with operator validation that each step has been completed correctly, while capturing production data. If quality issues occur, parts can be contained, repaired or sent to rework stations, with appropriate alerts and notifications until quality issues are resolved.
Additionally, if assembly processes are changed or lines are rebalanced – instructions and error proofing immediately change on the plant floor. Operators at the station level receive notification that a change has been made in the assembly process and provide verification that they have viewed and understand the changes.
INTEGRATE ERP/BOM/BUSINESS SYSTEMS
Manufacturers do not typically have the luxury of making just one model or product. At times there are thousands of options. With that, work instructions should react as BOMs change for a particular model or serial number. Instructions from one to the other can be very different or require subtle changes which are easy to miss during production. Real-time, work instruction software should be capable of displaying individual tasks with different instructions and error proofing based on a BOM or model difference.
COLLECT REAL-TIME DATA
Work instruction and assembly software on the plant floor must be able to capture critical production data such as operation and task cycle times to help identify overloaded or inefficient stations. Connected devices such as torque tools, barcode readers, pick lights, cobots, vision systems, and more, should feed measurements and data automatically into the system.
Many assembly operations in medical manufacturing are done manually. Process data for manual operations must be entered and digitally recorded as well. Items could include quality checklist, visual inspection verification, operator approval and sign-off, measurements, pass/fail, etc. Web-based dashboards can then be displayed on plant floor Andon or management offices to visualize production metrics, identify constraints and develop improvement initiatives.
GET DETAILED BUILD HISTORY AND MEET COMPLIANCE STANDARDS
Capturing process data for every step of the build provides a detailed eDHR (electronic device history record). Manufactures will have access to who completed jobs, what equipment and tooling was used, measurements tracked, parts used, and who completed inspections and approvals. This is an integral necessity for medical manufacturers to ensure "Proof of Quality" and that products are built correctly. Also, when electronic signatures and sign-offs are used within the build process for revisions, quality audits or approval processes, FDA 21 CFR Part 11 compliance standards are often met.
IMPROVED TRAINING & SECURITY
Medical manufacturing often entails highly skilled labor performing manual assembly operations, from fabrication work, special material handling and composites, to machining. Training time is often much faster and better when digital work instructions are used with text, images, videos or augmented reality features. Also, when logging into a work station, digital work instructions ensure that operators have the qualification requirements to work within the specified station or with specialized equipment such as cobots.
CONCLUSION
Through digitization of operations, complex product and process configurations become simplified. Error proofing becomes essential. Data becomes abundant. Operations become leaner. And ultimately, quality standards and compliance improve.
At eFlex Systems, we've created Job Element Monitor (JEM), a web-based, work instruction software application that provides a central system for assembly control, process sequencing, with connected tooling, devices, and kitting operations when and where you need them. Connect ERP systems and BOMs with JEM, ensuring that complex products with thousands of components are built correctly the first time, every time. Solve your most complex manufacturing challenges and get the quality standards you and your customers deserve.