GM Refurbishes 4-Cylinder Engine Plant to a V8 Line in a Cost Effective, Timely Manner Using eFlex Software
by Tina Kennedy, on Nov 14, 2016 9:55:22 AM
As noted in the Detroit News on February 19, 2016, General Motors invested $148 million into its Spring Hill Engine Manufacturing Plant in Tennessee to repurpose flexible machining and assembly equipment to meet market demand. While the facility has been producing 4-cylinder engines, they will now be updating features that will allow them to quickly adapt manufacturing lines to start producing the Small Block 6.2L V8 engines for the ever growing truck and SUV market segments. According to Arvin Jones, GM North America Manufacturing Manager, "The flexibility of Spring Hill's engine machining and assembly equipment is allowing GM to respond deftly when additional engine variant capacity is needed."
The assembly line was originally built for the production of 4-cylinder engines with eFlex Systems Flexible Assembly Configuration Software (FACS). This software provides process and control standardization within a modular plug and play system. "As a result of this flexible architecture, GM was able to repurpose the assembly line from a 4-cylinder to a V8 engine line in record time and at cost savings." said Dan McKiernan, president of eFlex Systems. Typically, traditional architecture assembly lines would be cost prohibitive to repurpose a line in this matter. FACS allows a line to be reconfigured quickly, in this case less than 10 months, without having to buy a new one. Because of the standardization, GM was able to just buy new tooling for most or part of the project and rebalance the line to produce V8 engines.
The line also included eFlex Vision Inspection Software which is a central image storage product that provides an integrated environment for managing and retrieving process images from vision inspection systems. This system allows manufactures to improve quality by identifying problems as soon as they occur, and prevents defective parts from reaching the customer. If a quality problem occurs or a warranty claim is made, engineers can quickly find the information they need to identify the root cause of the problem, or provide evidence to prove if the plant is not at fault.
Our products used on the line included eFlex Assembly (FACS), eFlex Process Improvement Tool (PIT) as well as eFlex Vision (Vision Inspection Image Management). Per Dan McKiernan, President at eFlex, "The implementation of eFlex Software in the Spring Hill plant ensured the right balance of technology, flexibility and lean manufacturing principles to meet changing market demand while maintaining the highest quality."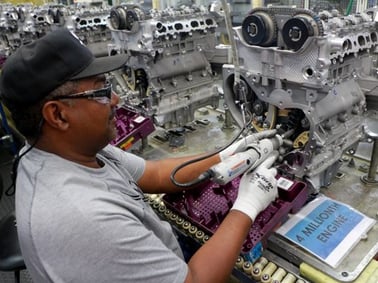 Source: Detroit News - GM Photo
To view more about GM's investment in the Spring Hills plant click on the links from the Detroit News or GM Corporate News Room.
About eFlex Systems
eFlex Systems is a recognized industry leader in the design and implementation of advanced technology and world-class assembly optimization solutions for the manufacturing and information technology markets. We can help you achieve the right balance of technology and lean manufacturing principles to meet changing market demands. Serving a global customer base, we continue to expand our production assembly optimization expertise. We rely on our reputation as a world class manufacturing software company and manufacturing consulting firm to both attract new customers and preserve our relationship with existing clients. Our team includes a diverse group of engineers from manufacturing, software and consulting disciplines.