Nissan Incorporates eFlex Assembly Technology Suite In State-of-the-Art Infiniti Decherd Powertrain Plant
by Rebecca Kotz, on Mar 9, 2015 2:39:00 PM
Nissan recently opened their Infiniti Decherd Powertrain Plant, embracing the eFlex Assembly Lean Leveraging Technology suite. This highly flexible suite provides the four-cylinder assembly line the ability to easily rebalance, reconfigure and report on current status and the impact of continuous improvement efforts, for both the planned Mercedes-Benz and Infinti engine production.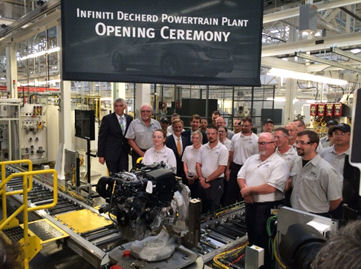 Photo source: Blake Farmer / WPL
According to Dan McKiernan, President of eFlex Systems, "Our technology suite at the Infiniti Decherd Powertrain Plant allows them to achieve the right balance between technology, flexibility and lean manufacturing principles to meet changing market demand while also ensuring the highest quality for their 'Infiniti 4.5' quality initiative." The continuous monitoring, reporting and line optimization tools from eFlex Assembly empower the Nissan site team (process, manufacturing, quality, IT and maintenance) to improve quality, reduce waste, and quickly react to market and model mix changes.
Although this is the first time a Nissan plant in the Americas has been built with technology from eFlex Systems, similar eFlex technologies are used by other major auto manufacturers in their global operations. "We are extremely proud and excited to have our eFlex Assembly technology in this plant and anticipate the same success our existing customers are experiencing," says George Jewell, Vice President of eFlex Systems. "The major difference is that this plant has the tools to both quickly and easily adapt to any future production volume and model mix, while primarily using in-house resources," says Jewell.
What Is eFlex Assembly?
eFlex Assembly is a planning and management software, which works with the associated MEL-FACS "flexible assembly configuration system" Mitsubishi Electric's Q-series PLC hardware and software solution. The eFlex Assembly software system at the Infiniti engine plant includes the following modular and integrated software tools:
eConfiguration: Performs station/model configuration and downloading new process requirements for production, without PLC reprogramming
ePIT: Process Improvement Tool allows benchmarking and quality plant floor changes with simple statistical tools
eReports: First level reporting for plant floor operation down to individual part and task specific status
eDiagnostics: Works integrally with eFlex Assembly for non-conforming parts arriving at test/repair areas to contain the latest line configuration data and descriptions
eHMI: Provides plant floor station HMI's configuration data, such detailed task naming sequences
eInstructions (in progress): To provide highly detailed and sequenced Standard Operating Instructions on the manual station HMI's, for optimized production quality attainment
The Infiniti Decherd Powertrain Plant leverages the above suite of tools from eFlex Assembly to help achieve the highest rating an Infiniti plant can have, based on their 'Infiniti 4.5' quality initiative. Infiniti President Johan De Nysschen stated, "We are very proud of the state of the art facility producing flawless equipment." Infiniti management has described this new plant as their "center of excellence" for the Americas, due to all the new technology being utilized in this new plant. To hear more from Nissan about the launch of the new plant, you can watch the video at http://www.youtube.com/watch?v=TfFnujINmB0.
About eFlex Systems
eFlex Systems is a recognized industry leader in the design and implementation of advanced technology and world-class assembly optimization solutions for the manufacturing and information technology markets. We can help you achieve the right balance of technology and lean manufacturing principles to meet changing market demands. Serving a global customer base, we continue to expand our production assembly optimization expertise. We rely on our reputation as a world class manufacturing software company and manufacturing consulting firm to both attract new customers and preserve our relationship with existing clients. Our team includes a diverse group of engineers from manufacturing, software and consulting disciplines.