Navistar integrates eFlex's software into its Springfield Plant
by George Jewell, on Dec 12, 2016 10:20:17 AM
News Release: Rochester Hills, Mi - December 9, 2016

eFlex Systems was recently awarded a contract by Navistar/GM to integrate their world-class Flexible Assembly Technology into Navistar's Springfield, Ohio plant to optimize the production of GM's G Van line, including the Chevrolet Express and GMC Savana. According to an article in the Wallstreet Journal, GM has been looking to increase their supply of pickup trucks to keep up with consumer demand. By partnering with Navistar, GM will be able to increase production of the Chevrolet Colorado and GMC Canyon at their Wentzille, Mo. plant while Navistar will take over assembly on some commercial vans in the first half of 2017.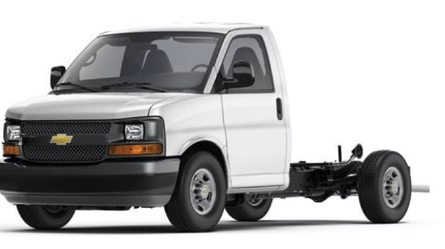 (GM Photo) Source: Detroit News
As quoted by Bill Kozek, president of Truck and Parts at Navistar in a GM Newsroom release, "Our collaboration with GM is another example of our customer-centric, open integration approach - providing our customers with the best technologies available."
In a statement by George Jewell, VP at eFlex Systems, "We at eFlex are excited about the opportunity to provide Navistar with our eFlex Assembly product. This industry leading solution will provide Navistar an extremely flexible solution for the new GM van line. Additionally, eFlex will be providing our recently released Job Element Light (JEL), which will provide web-based, task visualization throughout all stations on the line". In addition to the Flexible Assembly Configuration System (FACS) and Job Element Light (JEL), eFlex will also be integrating their Quality Data Management Software. This software will allow for robust, real-time, process data capture and visuailzation for fastening, testing, dispensing, pressing, leak rates, etc. By capturing this data, Navistar will maximize quality traceabiity within the plant.
Software Highlights:
eFlex Assembly: With web-based configuration and integration with Navistar's BOM system, changes to the process and line rebalancing can be implemented quickly without PLC reprogramming. Additionally, eFlex Assembly provides detailed vehicle and sub-system reporting which includes task specific status, data, and cycle times.
Job Element Light (JEL): Provides configurable, real-time, web-based, task indication throughout the assembly process. Automatically shows when tasks are enabled, ok, rejected, not required, or bypassed. Page automatically scrolls as tasks are completed. If tasks names or sequences are changed within eFlex Assembly, JEL screens will immediately react. Can be displayed on any web-based device from tablets to large, overhead monitors. Available in many languages.
Quality/Data Management: Maximizes quality traceability within the plant by capturing process data related to the part or process. With eFlex's high performance technical stack thousands of data points can be stored. Data can be reviewed by serial number or operation and with eFlex Analytics users can statistically review data for problem analysis or continuous improvement efforts.
About eFlex Systems
eFlex Systems is a recognized industry leader in the design and implementation of advanced technology and world-class assembly optimization solutions for the manufacturing and information technology markets. We can help you achieve the right balance of technology and lean manufacturing principles to meet changing market demands. Serving a global customer base, we continue to expand our production assembly optimization expertise. We rely on our reputation as a world class manufacturing software company and manufacturing consulting firm to both attract new customers and preserve our relationship with existing clients. Our team includes a diverse group of engineers and developers from manufacturing, software and consulting disciplines.
To view more about the GM/Navistar partnership go to:
Detroit News: GM partners with Navistar to finish cutaway vans
GM Corporate Newsroom: Gm and Navistar reach commercial vehicle agreement
Wall Street Journal: GM gives some van work to Navistar