eFlex Systems Exhibiting at The Assembly Show in Rosemont, IL – October 23-25, 2018
by Tina Kennedy, on Oct 15, 2018 3:23:59 PM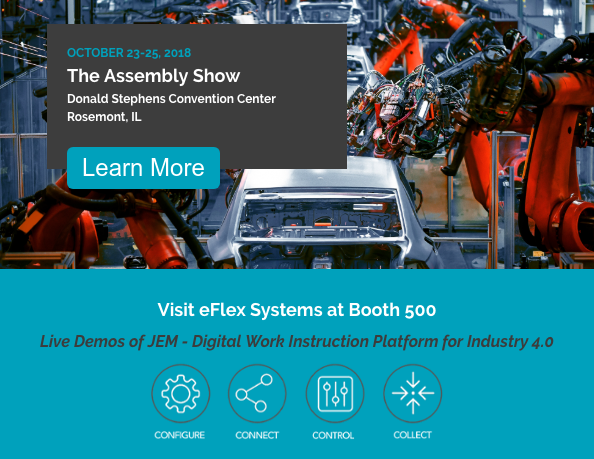 Job Element Monitor (JEM) is a web-based, software solution to digitize assembly operations while collecting critical data from machines, tooling, devices and operator interaction.
With the JEM application:
Easily configure your manufacturing environment.

Connect and enable tooling and devices.

Control processes and enforce quality standards.

Collect data and cycle times down to the task level.
Visit Booth 500 for a live demo! Skip the lines and sign up for your DEMO SPEED PASS! Pick your preferred day and time for a demo while at the show and an eFlex team member will save your spot!
"Assembly connecting manufacturing suppliers buyers and users of assembly equipment in a forum exclusive to assembly technology equipment and products"
The Assembly Show is a 3 day event will be held from 23rd October to 25th October 2018 at the Donald E. Stephens Convention Center in Rosemont, United States Of America. This event provides assembly driven content, education and suppliers and discover new assembly techniques, products and services.