eFlex Systems Exhibiting at The Assembly Show October 22-24, 2019
by Tina Kennedy, on Sep 9, 2019 11:10:41 AM
eFlex Systems excited to announce they will be exhibiting at The Assembly Show, booth #600 in Rosemont, Illinois from October 22-24, 2019. The show focuses exclusively on assembly technology, equipment and products. eFlex will be providing live demos of their Manufacturing Integrated Platform (MIP) solutions to allow for a hands-on experience for attendees as they explore the latest technologies connecting factory floors and expanding Industry 4.0 initiatives.
MIP is an innovative, next-generation digital manufacturing solution that heralds a profound and seismic shift in how factory floors function – and what manufacturers are capable of. MIP solutions essentially replace almost all of the layers of the traditional automation stack: a cost-effective, game changing solution for plant floor control, visibility and error-proofing, making it easier than ever before to configure and manage manufacturing environments, standardize work instructions and process control, and monitor and enforce quality standards.
Dan McKiernan, eFlex President, and Randy Blaylock, VP of Sales will also be presenting in the learning theater on Wednesday, October 23rd, covering, "The Manufacturing Integrated Platform – The Operating System for Industry 4.0". During the presentation, they will explore the needs, benefits and challenges of implementing Industry 4.0 smart factory solutions at the task level in production critical environments and the value of task level digital threads. They will also discuss why the traditional automation pyramid is becoming obsolete and what the model of tomorrow looks like.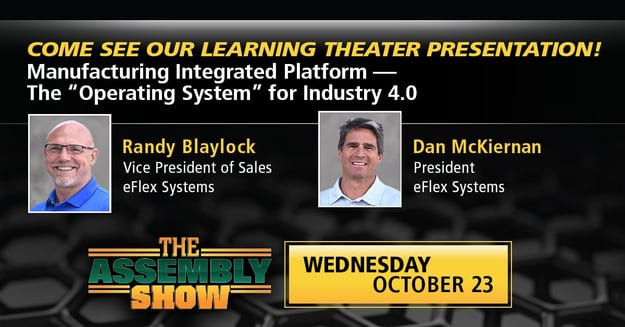 Hope to see you at The ASSEMBLY Show, booth #600. A place to find innovative new ideas to remain competitive and provide actionable solutions that will improve your assembly processes.
The ASSEMBLY Show is sponsored by ASSEMBLY, a monthly trade magazine read by 56,000 engineers and managers responsible for manufacturing and designing cars, computers, catheters, coffee makers, etc. ASSEMBLY covers the processes, technologies and strategies for joining discrete parts into finished products. The event is produced by BNP Media, one of the country's leading business-to-business media companies serving professionals across 50+ industries. For more information, visit www.theassemblyshow.com.