eFlex partners with Light Guide Systems, adding augmented reality (AR) capabilities to JEM — work instruction software
by Tina Kennedy, on Feb 8, 2018 10:11:48 AM
Industry 4.0 is changing manufacturing environments with the use of increased automation and real-time data to maximize productivity and reduce costs. While more companies automate routine tasks, operators are still necessary and better at many non-routine tasks. In order to leverage lean operations and competiveness, manufacturers need to invest in technology that expands the capabilities of machines and workers beyond what they could accomplish working alone.
eFlex Systems, a lean manufacturing software company, continues to implement technology, supporting Industry 4.0. Through a partnership with Light Guide Systems, eFlex added augmented reality (AR) features into their web-based, assembly software – Job Element Monitor (JEM), a work instruction module. In a statement by George Jewell, VP at eFlex, "Many of our manufacturing software modules have focused on lean manufacturing utilizing technology. While our JEM module provides detailed task and model based work instructions, we understand the additional benefits that augmented reality brings. From this, eFlex and Light Guide Systems have partnered to add this to the eFlex Assembly framework. "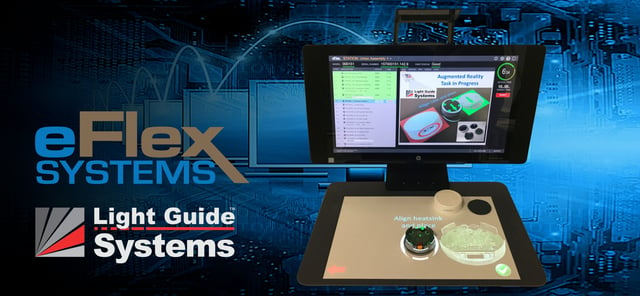 While AR has been gaining momentum in the manufacturing design process, its relevance to the plant floor with assembly operations is also increasing. "Today's technologies are having a dramatic impact on traditional manufacturing processes," said Paul Ryznar, founder, CEO and president of OPS Solutions. "By utilizing powerful AR tech in new ways, we are able to place the right information in the right place at the right time, which has an incredible impact on manufacturing operations, quality, efficiency, training and inspection. When Light Guide is combined with eFlex Assembly framework, it exponentially accelerates the value for both products."
5 Benefits of Utilizing eFlex Assembly with JEM
1. Error Proofing & Improved Quality Standards
With the use of JEM, operators are guided through assembly tasks step by step. In real-time, as tasks are enabled and completed the system will manually or automatically move to the proper image and instruction. Furthermore, JEM automatically responds to product model and/or BOM changes. This provides a high-level, error proofing system for manufacturers, ensuring that products are built correctly, every time. This is especially critical for manufacturers that have numerous part variations or models being configured on the plant floor. Per George Jewell, "Quality standards are often impacted drastically when standardized work procedures are implemented with proliferated error proofing measures." Additionally, process data is captured for each part. This data can be used for part tolerance verification, gauge R&R, statistical analysis, etc.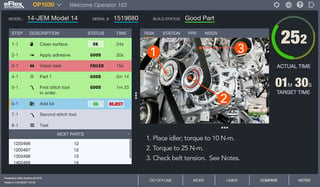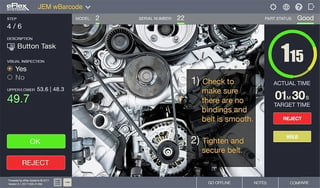 JEM
Multi-Task View
JEM
Single Task View
2. Real-Time Data & Improved Throughput
With JEM, assembly cycle times and process data are captured in real-time for each task and every part. This provides management with the tools they need to identify constraints and inefficiencies in the production process. With eFlex's software, work instructions and tasks can quickly and easily be rebalanced based on data to optimize throughput on the production floor.
Real-time data can be sliced and diced in many ways depending on management's needs. Reports could include items such as average production output or rate per period, operating time/output per day for each station, machine or person, to how long it takes to produce one unit of a product. Key performance indicators (KPIs) can be displayed on large overhead monitors on the production floor, in management offices or on any web-capable device.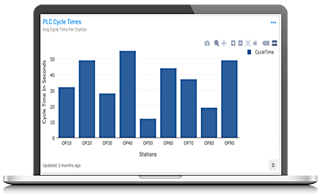 3. Connectivity with Digitization Where and When You Need It
JEM can be deployed on manual, semi-automated or fully-automated lines with the ability to connect to many devices such as AR projectors, fastening controllers, barcode readers, pick lights, error proofing sensors, scales and gauges, vision systems, and more. eFlex developed the drivers to connect to the devices so that no programming is necessary. Not only can JEM connect to tooling and equipment, it can connect to Enterprise Resource Planning (ERP) systems and other applications as needed.
Digital initiatives for manufacturers vary greatly. eFlex's framework helps manufacturers meet their specific goals when and where they need them. Assembly plants do not need to digitize operations and connect tooling or equipment all at once. The system grows with you as you become more automated.
4. Training
New manufacturing jobs require technical training, time and significant investments. With the pace of automation and technology, job skills and requirements will likely change many times over a course of a career as well. According to Dan McKiernan, eFlex President, "The use of work instruction software will drastically decrease training time for new and existing employees. New skills and training can be obtained on the plant floor where it's used rather than spending long hours in a classroom."
The work instruction software can be used in workstations or off-line specifically for training needs. Touch screens can be displayed in each of these areas with work instruction guidelines. With the addition of Light Guide's AR features, projected lights, symbols, blueprints, text, images or videos can be overlaid onto the work station as well to guide the operator through assembly tasks and procedures. Employees will not have to rely on paper instructions, manuals or tribal knowledge of employees for best practice assembly requirements.
5. Safety
Many of today's manufacturers have specific safety requirements that must be met during production. With JEM, station specific data can be entered for items such as personal protective equipment (PPE) that must be worn, Material Safety Data Sheets (MSDS) for chemical products, or specific notes on how to use the equipment. In addition, with Light Guide's AR features, images, text or videos could also be projected onto the workstation with safety requirements or needs. Operators will have up-to-date safety information at all times. If changes need to be made, users with permission to make changes can access JEM with a web-based browser, make necessary changes and update the stations in real-time.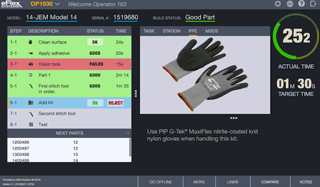 Configurable Area for (PPE, MSDS, Station Specific Notes, Etc.)
eFlex Assembly with JEM is a robust, web-based software application, enabling manufacturers to digitize operations, standardize best practices, and get access to critical plant floor data. The application can run locally or in the cloud ­– with access anywhere, anytime. Install the software site-wide or in stages as digital operations grow or projects move forward. With JEM, manufacturers get open visibility of plant floor operations. Management will have the tools they need to expand the capabilities of both machines and workers on the plant floor, enabling lean operations with a competitive edge.
About eFlex Systems
eFlex Systems is a recognized industry leader in the design and implementation of advanced technology and world-class assembly optimization solutions for the manufacturing and information technology markets. We can help you achieve the right balance of technology and lean manufacturing principles to meet changing market demands. Serving a global customer base, we continue to expand our production assembly optimization expertise. We rely on our reputation as a world class manufacturing software company and manufacturing consulting firm to both attract new customers and preserve our relationship with existing clients. Our team includes a diverse group of developers, designers and engineers from manufacturing, software and consulting disciplines.