eFlex Exhibiting at the Advanced Design & Manufacturing Expo in Cleveland, March 7-8, 2018. Visit Booth 434 for a Live Demo!
by Tina Kennedy, on Feb 19, 2018 4:01:58 PM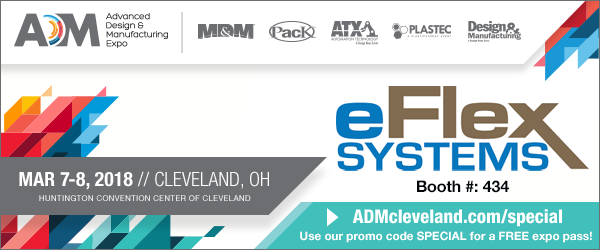 See How Our Software Can Impact Your Operations!
Visit Booth 434 for a Live Demo.
eFlex Systems is exhibiting at the Advanced Design & Manufacturing Expo in Cleveland, Ohio on March 7-8, 2018. Check out our latest technology and software features that are helping manufacturers meet their Industry 4.0 initiatives with digitization of operations.
We realize that every manufacturer has different needs, compliance standards and goals within their organization and offer various solutions that range from basic work instructions to complete flexible assembly solutions, traceability, process data, OEE, analytical reporting, and more. Our software easily connects to ERP systems, BOMs and tooling, to make sure products are built correctly the first time, every time. We take pride in improving quality standards and throughput on the plant floor with open visibility of operations. Visit Booth 434 and see how our software can impact your operations.
Work Instruction - Single Task View Work Instruction - Multi Task View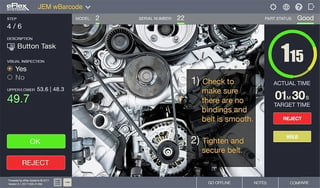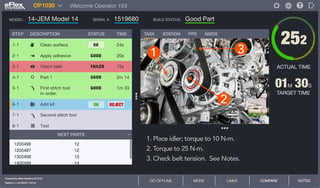 After an incredible first year, Advanced Design and Manufacturing (ADM) Expo in Cleveland returns, showcasing the latest in robotics, automation, plastics, packaging, and design engineering. Join 2,600+ professionals from industry sectors such as medtech, aerospace, automotive, and more to discover cutting-edge technologies that can propel your projects forward. No other event in Ohio provides you with top suppliers, networking activities, and a comprehensive conference program.
Click this link to learn more about the ADM Expo.
Visit booth 434 for a live demo! Get a hands-on experience of our software capabilities.
We offer many solutions for manual, semi-automated and fully automated operations. Pick the software modules you need now and add more as you grow. Live demos available for hands on experience of our software capabilities. Benefits of eFlex Vision: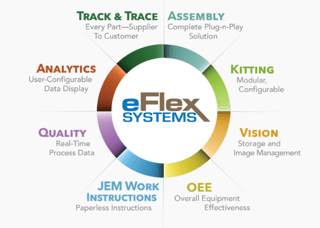 Screen shot of our JEM Work Instruction Software.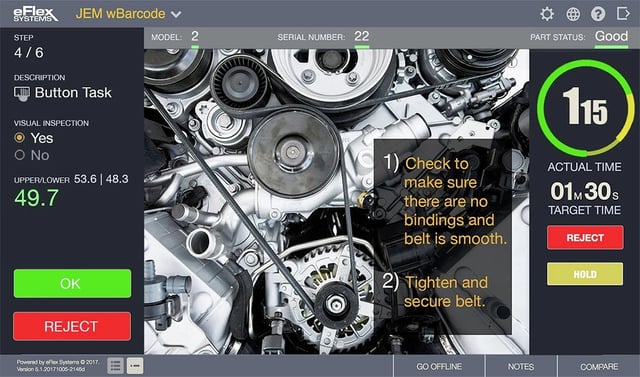 Why go the Advanced Design & Manufacturing Show? Watch the Video
According to the Automate website, "You really get to see a great cross section of the entire automation industry at Automate, along with the latest technologies that are making an impact on manufacturing today."
Held once every two years in the United States, Automate is the broadest automation solutions event in North America, affording the best overview of the entire industry. Featuring the latest in cutting-edge robotics, vision, motion control, and related technologies, the event attracts thousands of visitors from around the world looking for ways to enhance their processes, improve product quality, lower costs, and sharpen their competitive edge.