eFlex Systems Announces Strategic Partnership with Turck
by Tina Kennedy, on Aug 6, 2018 3:43:05 PM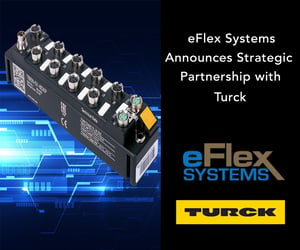 ROCHESTER HILLS, Mich., August 6, 2018 --
eFlex Systems, a recognized industry leader in the design and implementation of advanced technology and digital manufacturing software solutions, announced today its strategic partnership with Turck, a global provider of industrial automation solutions. Through this strategic partnership, eFlex Systems will utilize Turck I/O technology for plant floor device configuration and communication within their digital manufacturing software platform.
Dan McKiernan, President of eFlex Systems, commented, "Increasingly our customers are integrating smart tooling and devices into their manufacturing processes as they ramp up digital initiatives and prepare themselves for Industry 4.0. They are looking to connect all areas of the plant floor for real-time data, insights and analytics." He continued, "We at eFlex, realized we needed robust, industrial I/O to control real-world devices instead of just prompting through screens. One that allowed for an open flex space to write custom ladder logic at the device level as needed. Turck, with their vast offerings was the right solution for our application and we are excited to be partnering with them."
With Turck's innovative hardware platform, customers using the eFlex digital manufacturing software will be able to seamlessly connect and control digital devices. Dan McKiernan added, "This will be impactful for all of our installations, whether they are simpler, small projects or large, complex operations. In addition to eFlex support, our customers can leverage Turck's global support network for hardware related issues."
Turck President, Dave Lagerstrom, added "We are delighted to partner with an innovator like eFlex Systems, ensuring simple, seamless device level configuration and communication on the plant floor with our I/O technology."
About eFlex Systems
eFlex Systems (www.eflexsystems.com) is a recognized industry leader in the design and implementation of advanced technology and world-class digital solutions for the manufacturing and information technology markets. Serving a global customer base, the company's reputation as a world class manufacturing software company and manufacturing consulting firm attracts new customers while preserving relationships with existing clients. Follow on Twitter @eFlexSystems.
About Turck
Turck (www.turck.us) is a pioneer in automation technology, providing customers with a comprehensive line of quality and advanced technology products in a fast, flexible and accurate manner. With more than 4,200 people working in 30 countries, Turck has built global partnerships with customers based on engineering expertise, flexibility and our willingness to take on engineering challenges that others won't.
Media Contact:
Tina Kennedy, Marketing Manager
tinakennedy@eFlexSystems.com