Convergence, Flexibility Drive the Global Automotive Reality: Automaking Poised to Enter Next Stage of Development
by Dan McKiernan, on Nov 14, 2012 3:57:00 PM
Article Written by Aaron Hand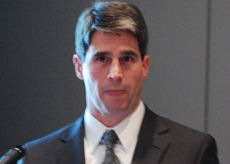 Automobile manufacturers today compete in an increasingly global environment. And they're dragging their machine and component suppliers along. Output and influence is shifting more and more toward Asia. With 40% of automotive manufacturing taking place in China, India and ASEANcountries, suppliers can no longer afford to ignore that part of the world, said Michael Robinet, director of global production forecasting at IHS Automotive, who spoke Wednesday afternoon at Rockwell Automation's Automotive Industry Forum at the Automation Fair in Chicago.
It's not even just a matter of missing out on a considerable amount of business in the Eastern half of the world, Robinet explained, but also losing business from suppliers who are manufacturing across the globe and demanding global solutions. A vehicle could be designed in one location and built somewhere else. Components could come from another location, and final assembly could take place in yet another. "We're already global," Robinet said, adding that it's time to move beyond globalization. The next step includes the convergence of technologies, business practices and lifecycles, and a level of flexibility that enables manufacturers to react quickly.
Fortunately, it's getting easier to work on a worldwide basis, in part because of regulatory and legislative convergence around the globe. From emissions standards to safety standards and recyclability—there is increasing regulatory harmonization, Robinet said. "That provides a tremendous opportunity going forward," he said. "It gives rise to the efficacy of global platforms."
"Inflexibility equals lost opportunities." Elite Engineering's Dan McKiernan discussed how today's automotive lines rely on configurability, distributed control and plug-and-play capabilities to accommodate rapid changes in production requirements. The challenge for automotive suppliers today is not just creating solutions that can be sold around the world, but that can be deployed in a consistent manner, said Frank Kulaszewicz, senior vice president of architecture and software for Rockwell Automation.
Ten years ago, five different vehicles would have been built in five different ways. Today, building the same vehicle around the world drives a lot of economies of scale. Driving toward this type of commonality is part of the new automotive reality, Robinet said, with not just converging standards, but also converging technologies, platforms and even converging cadences—how often vehicles are renewed to meet market demands. In the past, a typical cadence in Brazil, for example, was nine years, in Europe six years, and in the United States seven-and-a-half years. "Now it has to all come together, or you lose the advantages of a global platform," Robinet said.
Another part of the equation for competing in today's automotive industry is flexibility. Cadences are tightening to respond to market demands, but manufacturers need to be even more flexible than that. Inflexibility equals lost opportunities, insisted Dan McKiernan, president of Elite Engineering.
At the Automotive Industry Forum, McKiernan described a situation in which a manufacturer tooled up its V6 line and suffered when the market began demanding four-cylinder engines instead, and it wasn't able to react quickly enough. The manufacturer's new, very expensive V6 line was done with its production run by 10 a.m., while the single four-cylinder line worked around the clock and still couldn't meet demand.
Highly dedicated automation and non-flexible assembly was common in the 1990-2005 timeframe, McKiernan said. "Now we've gone back to more flexibility and are moving away from dedicated, highly automated lines."
Today's manufacturing line needs to be flexible and agile, which has come about through configurability, distributed control and plug-and-play capabilities. Manufacturing should be data-driven. Everything should be standardized, including analytics and processes. And everything—from the plant floor to IT—needs to be seamlessly integrated. "Probably most importantly, everything needs to be centered around the process itself," McKiernan said.
To further illustrate the point about the profound need for flexibility, McKiernan showed what happened when a traditional, non-flexible engine manufacturing line decided it needed to make a change to the line. Ultimately, it took three outsourced engineers two months to get through a complex change involving extensive re-coding, with engineering costing about $78,000. In contrast, the same change done on a highly flexible line was done by a staff engineer over one weekend. He spent 16 hours reconfiguring, with no re-coding necessary, and the line was up and running again Monday morning. That project cost about $2,000. "There was less risk, it was less costly, and was done with plant resources," McKiernan added.
"Up until the automotive depression a couple years ago, the industry didn't think too much about risk," Robinet said. "I can tell you now that suppliers, as well as vehicle manufacturers take risk more seriously."