Celebrating 20 Years at eFlex
by Tina Kennedy, on Mar 28, 2019 2:33:12 PM
eFlex Systems was founded in 1989, initially known as Elite Engineering. Like many great tech company start-ups, Elite Engineering started in a garage in Romeo, Michigan. Those that worked there, however, liked to call it the "barn" due to its shape and upper loft area where team members did most of their work.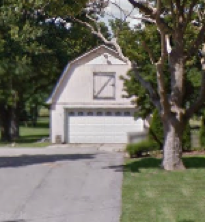 Initially, the company pioneered Andon systems, lights, music boxes and controls engineering. However, by the mid 90's, Operations Support Systems (OSS) were born and eFlex quickly jumped into flexible assembly software solutions. With the success of the software and expansion needs, the company eventually moved to a dedicated office building in Rochester Hills, MI.

The company owes a lot of its success to a couple hard working individuals. Over the past 20 years Dave Schwenke and Dave Beskin have been an integral part of the eFlex Systems team. (Seen in the photos below) Both have exemplified a drive and desire to learn about new and emerging technologies reshaping the manufacturing landscape while putting their mark on it. Both have worn many hats over the past 2 decades ranging from programmers, designers, integrators, quality assurance managers, to customer service, support and recruiting.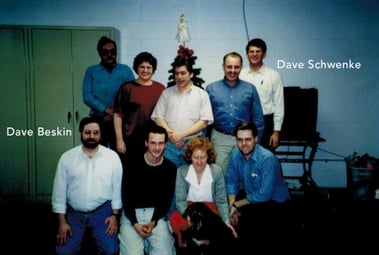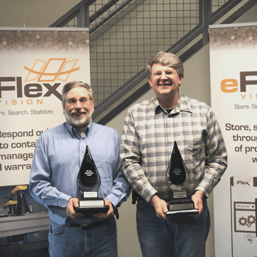 Elite Engineering - Early 90's eFlex Systems - 20 Year Celebration
Dave Schwenke started with the company in 1998, moonlighting for Elite Engineering while working at another job. In the meantime, projects were ramping up within the US and China and Larry Greer, the owner at the time, offered Dave a full-time position. He took the leap and quickly began working on various projects globally – developing and integrating music boxes, lights and Andon notification systems. As PLCs became more embedded on the plant floor with increased need for software and hardware solutions, Dave worked on various projects developing software, configuring it and integrating it on the lines. Projects ranged from machine status, maintenance, model tracking, material delivery to fully flexible assembly architecture solutions. Dave currently works as Director of Systems Integration and continues to lead the PLC/software integration teams.
Dave Beskin, originally from Albany, New York, was working in the television industry in the late 90's and taking computer programming classes. This led to a contract job with GE Fanuc, working on a project in Shanghai, China, where he met Dave Schwenke. When his contracted project came to an end, Schwenke reached out and offered him a position with Elite Engineering in Michigan. Dave took the offer and made the move.
Dave joined the company as a software engineer. Due to his vast knowledge base of OSS/APE he focused on writing large amounts of code and taking care of customers utilizing their products. Dave has remained focused on keeping critical production lines running smoothly for customers with failover, but also on increasing flexibility for truly lean operations. Dave currently serves as eFlex's Application Support Manager, bridging the gap between customers and eFlex software teams.
Both Dave and Dave, have racked up frequent flier miles over the years traveling to 3 continents and countries such as Mexico, Japan, China, Germany, France, Hungary, South Korea, Canada, and throughout the US. When asked what has kept them at eFlex for the past 20 years, they both had similar answers – strong friendships, tackling new projects and solving challenging problems. As Dave Schwenke said, "Evolution – I like to build on what I've done and make it better." And that's the heart of eFlex and it shows in its people and culture. How to take our customers most complex problems and needs and provide flexible, simple solutions to make them faster and better.
A heartfelt thanks goes out to Dave and Dave for their 20 years with eFlex Systems, their friendship, continuous innovation efforts and their ultimate impact on the manufacturing industry!