eFlex Vision Case Study: "Large Aut
omotive Manufacturer Integrates eFlex Vision onto Cognex Cameras to Optimize Vision Inspection System, Improve Part Quality and

Reduce Warranty Costs"

eFlex Vision Processes 200,000 Images Per Day on a High Volume Transmission Assembly Line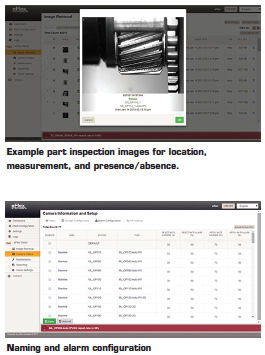 A large automotive manufacturer uses eFlex Vision to process over 200,000 process images per day, at roughly 200 images per minute. Learn how eFlex Vision increases their image accessibility and reliability, reduces complexity and maintenance costs, decreases response time to camera issues, provides camera audit trail tracking and much more.
Prior to installing eFlex Vision on its Cognex cameras, this transmission plant:
Stored images on PCs scattered through the plant that were used for viewing of local images directly from attached plant floor cameras.
Purchased and maintained PCs (operating system patches, anti-virus updates and repairing hardware failures, etc.).
Transferred images via FTP from the camera to the PC without a feedback loop to determine when the PC stopped collecting images.
Wasted time on engineers visiting each PC to collect the images.
Lacked diagnostic capabilities, such as alerts when quality was degrading.
To address challenges, improve quality and reduce warranty costs, the transmission plant incorporated eFlex Vision to create an integrated environment for managing and retrieving process images.
Complete the form to the right to find out how we did this.