Learn How to Optimize Your Vision Inspection System
Complete the Form to Download our eFlex Vision Brochure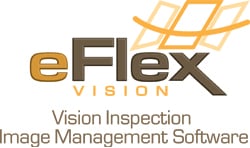 eFlex Vision is an inspection camera image management software that provides an integrated environment for managing and retrieving process images from vision inspection systems. It supports quality control and warranty claim management, reduces costs and increases productivity.

Download the brochure to learn how to:
Save time and money while reducing first-time quality issues caused by false rejects and camera related downtime.
Reduce first-time quality occurrences through vision storage and camera monitoring strategies.
Monitor camera performance deterioration.
And much more.
eFlex Vision's exclusive technology and software can be applied to any process in manufacturing, medical, industrial, government, pharmaceuticals, financial, and security, among others, and also integrates with any type of vision inspection camera.