eFlex Vision is an image storage software solution that provides an integrated environment for managing and retrieving all manufacturing process images. Images can be stored in the cloud or locally at your facility and can be accessed anywhere, anytime via a web interface. eFlex Vision can be applied to any process in manufacturing, medical, industrial, government, pharmaceuticals, financial, and security, among others. We integrate with most types of vision inspection cameras, hardware and systems.
---
Benefits of eFlex Vision: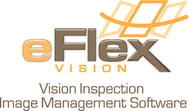 Advance Quality Management Efforts: Reduce first-time quality hits. Quickly retrieve images in the event of a quality spill. Contain quality spills by simply finding the "start" and "end" of the spill.
Improve Warranty Claim Management Capabilities: Use images for warranty claim reviews and improved root cause analysis. Comply with #FDA21 CFR Part 11 audit trails to help protect against warranty claims.
Eliminate High-Cost Resources: Our web-based solution simplifies the image storage and retrieval process, reduces manual labor, and bridges the gap between IT and the plant floor.
Support Decision Making: Receive real-time, actionable information to enable process control, predictive maintenance, containment and more.
Quick Installation: Apply eFlex Vision to your existing framework within a few days or weeks to quickly get started.
Supports Diversified Industries: Can be applied to manufacturing, medical, industrial, pharmaceuticals, government, and many more.